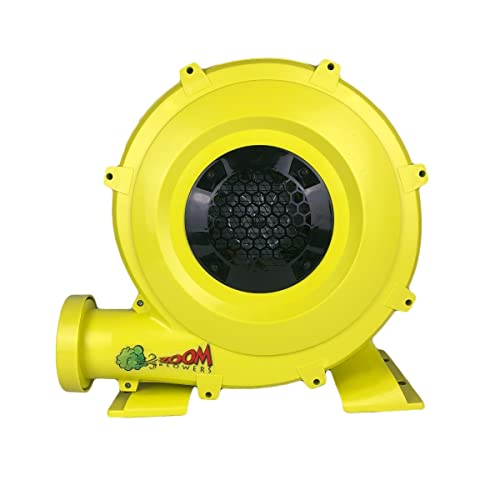 *
Pricing data last updated Oct 5, 2023
Available Upon Request
Zoom Blowers® 450-Watt, 0.5 HP Compact and Energy Efficient Zoom Commercial Air Blower for Small Inflatables and Bounce Houses
Product Features
Here are some features that have been provided by the manufacturer:
PREMIUM QUALITY: Our compact and energy-efficient air blower has incredible strength and potency. Our inflator pump is terrific for nylon-constructed, residential inflatable bounce houses and combos and can also be used for display and advertising inflatables!
HIGH POWER: Say hello to our most efficient 0.5-horsepower blower ever! Featuring a 0.5 HP motor, 450 watts, and over 500 CFM, our bounce house blower will get the job done right each and every time. It's the ultimate blower motor for inflatables that are small in size!
ULTRA DURABLE: Featuring a mesh cover on the blower chute that helps prevent dirt and debris from interrupting airflow, our durable and heavy-duty inflatable pump is excellent for an inflatable bounce house, obstacle course for kids, and residential water slides!
COMPACT AND PORTABLE: Weighing just thirteen (13) pounds, our jump house blower will fit into tight spaces and hide away from the sight of friends, family, and guests. Our air inflator is easy to use, fully functional, and conveniently portable.
AWESOME FEATURES: Featuring a built-in carrying handle that makes this blower easy to transport and store, rest easy knowing you'll be receiving an excellent inflatable blower that has the power to blow up small inflatables effortlessly and quickly.