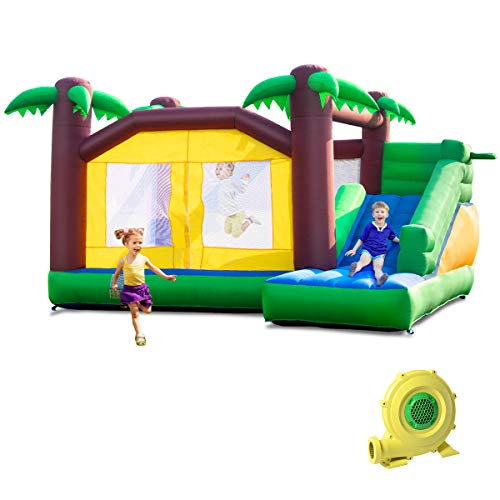 *
Pricing data last updated Oct 5, 2023
Costzon
Costzon Inflatable Bounce House, Jungle Jump and Slide Bouncer w/Large Jumping Area, Long Slide, Basketball Hoop, Indoor Outdoor Use, Including Carry Bag, Repair Kit, Stakes (with 950W Air Blower)
Product Features
Here are some features that have been provided by the manufacturer:
Multiple Play Areas: This inflatable water park combines a variety of functions and entertainment in one. With a long slide, a climbing wall, a splash pool and a jumping area, children can enjoy fun of various of games at the same time . Give children a happy childhood! (Suggestion: every kid's weight should be under 99 lbs). Suitable for 3 kids play together. Recommended for ages: 3-10 years old.
Enjoy Water Fun: Connect the hose it can be used as a water park, children will have endless fun with this inflatable water slide. Sliding down the smooth slide or lounging around in the splash pool, this inflatable water park brings a cool summer to the children.
Durable Materials and Safe Design: Made of premium oxford materials, which is wear resistant. Combined with premium sewing techniques, this inflatable water park will provide continuous bounce for children. The jumping area is surrounded by mesh walls to ensure the safety of children while playing and allow for maximum ventilation.
Quick Inflation & Deflation: This water park takes only a few minutes to inflate and it also can be quickly deflated through a long air outlet tube and a short air outlet tube . The whole process does not have to wait for a long time to give children a better game experience. It is suitable for use in yard, park , lawn, etc. (Recommended for use with 680W blower, the blower is not included.)
Sweet Accessories: In order to meet your needs better, we have provided you with some accessories. A hose assembly kit for added enjoyment, a carrying bag for easy storage and transportation. 7 bouncer stakes for ensuring the stability and firmness, 4 repair patches for easy maintenance.