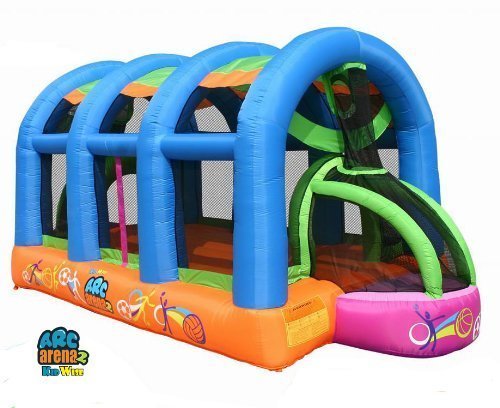 *
Pricing data last updated Apr 10, 2023
KIDWISE
KIDWISE Arc Arena II Sport Bounce House
Product Features
Here are some features that have been provided by the manufacturer:
The Arc Arena II Sport Bouncer is now ready for game time so let the games begin! KidWise is famous for its new and unique activity based bouncers.
The Arc Arena II has a 20'L x 10' W x 9'H overall dimension with lot's of room inside to Bounce around and Play.
Each end has an open goal that can be used for Soccer, while the Hoops above each goal is perfect for a little game of Basketball. The vertical Hoops have a net on the backside to catch balls and hold them in the storage net until you release them back into the bouncer.
Recommended weight limit 400lb (4kids at 100lbs each)
Includes Blower with GFCI breaker, stakes, carry bag, instructions and six neoprene balls.