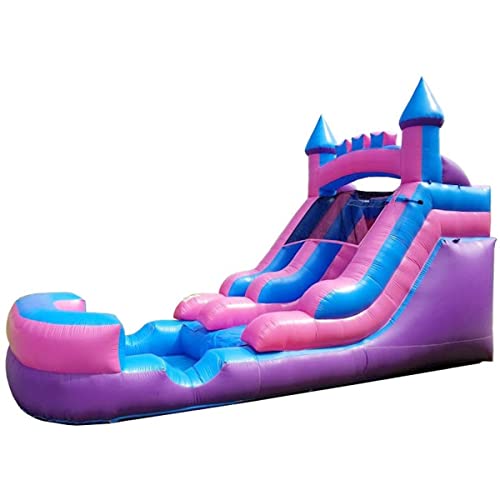 *
Pricing data last updated Oct 5, 2023
Available Upon Request
Pogo Bounce House Pink Crossover Inflatable Water Slide | 12-Foot Tall x 21-Foot Long x 9-Foot Wide | Includes Blower, Anchor Stakes, and Storage Bag
Product Features
Here are some features that have been provided by the manufacturer:
GLIDE AND SLIDE: This delightfully pink commercial slide adds unlimited fun to your home's yard! These kids outdoor toys provide children with excitement and fitness through climbing, sliding, and splashing. The measurements of our pink slides for kids are 21 feet long, 9 feet wide, 12 feet tall. It holds a maximum of one (1) user at a time (max weight limit of 200 pounds).
MADE FOR SMILES: This lovely pink slide for kids was thoughtfully designed with easy supervision and total safety in mind. It also includes a cool mister system for extra watery wetness. The tubes for inflating and deflating this slide was designed for easy and convenient storage and setup. No detail was too small to be overlooked- your complete satisfaction is always a top priority.
JUMP AND SPLASH: This pink water slide inflatable inflates in only two (2) minutes and also includes a water pool for splishing and splashing. Drains in the splash pool keeps the water level safe and appropriate for children of all ages! Awesome fun for birthdays or the summertime, you'll love our cute, pink slide with baby pool!
DURABLE: This pink inflatable pool slide is carefully made with strength to last summer after summer. This princess bouncy castle is constructed to be five (5) times tougher than typical nylon inflatables - our princess slides are made with strong and durable commercial grade PVC Vinyl. All vulnerable areas are made of ultra strong, 15-ounce (0.45 mm) PVC heavy-duty, multilayer Vinyl with double to quadruple stitching.
READY TO GO: Our pink princess inflatable will ship in two (2) boxes because we conveniently include everything you need to get the party started! Easy installation and setup for quick inflation in just two minutes, replaceable climb and slide surface, no-stand netting at the platform top, non-slip climbing surface, one (1) high-quality blower, anchor stakes, storage bag, and vinyl patches for any future repair needs.