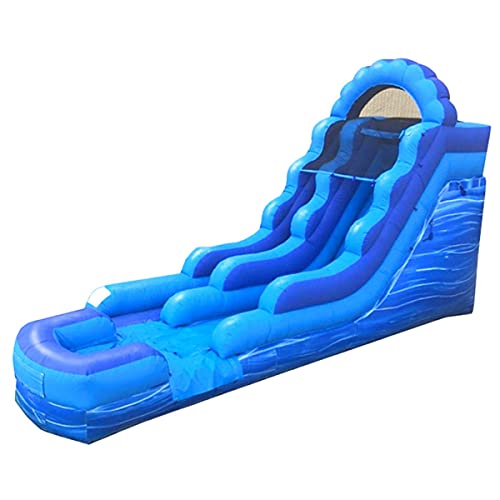 *
Pricing data last updated Oct 5, 2023
Available Upon Request
TentandTable 15-Foot Blue Marble Inflatable Water Slide, Wet or Dry, Commercial Grade, 1.5 HP Blower and Stakes Included
Product Features
Here are some features that have been provided by the manufacturer:
PREMIUM QUALITY: Our home and commercial water slide is made using heavy-duty puncture and flame-resistant, 15-ounce commercial grade PVC Vinyl with additional vinyl sewn into the highest stress areas. It has double to quadruple stitching throughout for strength and durability. Our Gator Mouth System featured at 90-degree stress points expands and contracts to alleviate pressure on the vinyl and limit repair needs.
EXPERTLY DESIGNED: By industry professionals with over 40 years of experience in the rental business. Our inflatable water slides for adults and kids feature a strip of vinyl hot welded over the seams to prevent debris from damaging the seams, but most importantly to keep water out of the unit. This measure keeps the unit lighter in weight and easier to transport after use.
SAFETY FEATURES: The built-in climbing ladder on our inflatable slides utilizes a non-slip surface material that is also replaceable when worn out. The top platform is equipped with finger-safe netting to ensure that children are unable to stand up at the top of the slide, as well as to ensure safe and proper sliding methods for each and every use. Our inflated landing zone not only provides cushioning but is designed with built-in drains to keep water levels safe for children of all ages.
EASY TO USE: With a commercial air blower pump fan to blow up the wet dry slide and 1/2"x18" hook stakes for anchoring. The built-in bladder misting system easily connects to a standard garden hose and will keep the sliding surface wet at all times. The slide mat surface is also replaceable when worn out. Deflation is a breeze too with the installed deflation zippers and tube for a quick tear-down after use. It comes with a PVC bag and nylon web straps for easy storage and transport.
IDEAL FOR RENTAL BUSINESS: These commercial quality bouncy inflatable slides make a great addition to a party rental business. This inflatable water slide for adults and kids has 23' L x 9' W x 15' H inflated dimensions and a seated height of 8.5' at the top platform. These inflatable slides are a popular water attraction rental item for any occasion and especially the summer season. It comes complete with a commercial grade 1.5HP air blower, PVC storage bag, stakes, and repair kit.