First off, if you want a bounce house with a slide, there are a lot of factors to consider. I'll break it down from as many angles as I can to help you find the best one for your family. I'll give you my overall list of the best bounce houses with a slide, and then I'll go into specific areas.
Are you looking for a unit for older kids, or younger ones? That's the primary deciding factor that you'll want to consider. Other things to consider are the overall number of jumpers (at once, anyway) and the frequency of use.
Other questions include where to buy a bounce house with a slide, whether that be in-person at a store nearby or online, and how much they actually cost. I'll cover all these things below. If you have other questions or if you think I've missed anything, leave a comment below and let me know what you think.
First, my top bounce houses with a slide:
| | | |
| --- | --- | --- |
| 1. | ACTION AIR Bounce House, Inflatable Bouncer with Air Blower, Jumping Castle with Slide for Outdoor and Indoor, Love for Kids | $213.49 |
| 2. | Bounceland Ultimate Combo Inflatable Bounce House, 12 ft L x 10 ft W x 8 ft H, Basketball Hoop, Obstacle Wall, Fun Tunnel, Slide and Bounce Area for Kids | $422.99 |
| 3. | Bounceland Pop Star Inflatable Bounce House Bouncer, Large Bouncing Area with Long Slide, Climbing Wall, Basketball Hoop, UL 1HP Blower Included, 15 ft x 13 ft x 8.3 ft H, Pop Star Kids Party Theme | $459.00 |
| 4. | Bounceland Royal Palace Inflatable Bounce House, with Long Slide, Large Bouncing Area, Basketball Hoop and Sun Roof, 13 ft x 12 ft x 9 ft H, UL Strong Certified Blower, Castle Kids Party Theme | $416.99 |
| 5. | Inflatable HQ Cloud 9 Commercial Grade Castle Bounce House 100% PVC with Blower | $969.99 |
| 6. | Island Hopper Racing Slide and Slam Recreational Bounce House | $599.99 |
| 7. | JumpOrange Commercial Grade 30' Rainbow Xtreme Inflatable Obstacle Course, Red/Yellow/Blue | $2,905.89 |
How Should I Choose?
As I mentioned in my intro, size is usually one of the most important factors when it comes to choosing any inflatable, but it's especially true if you're looking for a bounce house with a slide. There's nothing more disappointing for your kids than realizing that the inflatable slide that they thought was going to be awesome is actually sized for toddlers.
Be critical of age range listings on the products. I've seen models that claim to be usable by kids up to age 8, but that are really more appropriate up until about 5 or 6. All kids are different, and I don't know how they come up with their ranges (my guess is that it's based on some sort of average height and weight, but I don't know how you'd even come up with that data), but there's a wide range of interpretations out there when it comes to the age (and, ultimately, size) of kids that each bounce house slide will support.
Also, be mindful of the number of children you'll be hosting when you use the inflatable. If you go too small and you have too many kids, they'll get bored, which means they'll get restless, which means chaos will ensue. I don't know about you, but when I have kids over I spend most of my energy trying to figh off the inevitable chaos anyway, so I don't need to do anything to help provoke it.
Editor's Pick: The Best Bounce House with Slide
Our pick for the Best Bounce House with Slide is the Blast Zone Triple Play - Inflatable Combo Bounce House with Blower - Premium Quality - Holds 7 Kids - Double Slides. It's got the features that will keep your kids busy for hours (or days), and it also has a solid and reliable warranty standing behind the product. When you're making a large investment like you do with a large bounce house, it's important to know the manufacturer stands behind it.
The other thing that really puts this unit in my favor and makes it the best is the fact that it has three slides. Most units won't have that, and the ability to have multiple kids doing the main activity at once will be a huge sanity saver for many parents - especially at parties and in larger group situations.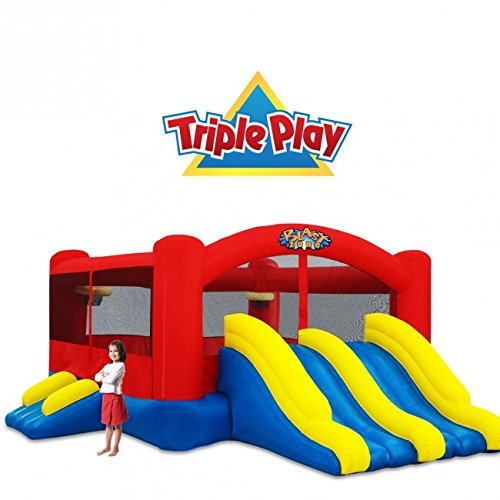 $599.99
more details
Budget Pick: Best Cheap Bounce House with Slide
My best budget pick for Best Bounce House with Slide is the BESTPARTY Inflatable Bouncy Slide Bounce House 6 in 1 with Slide Basket Hoop Climbing Wall Tunnel Blower. This is a surprising unit that packs a lot of punch. Compared to a lot of the other, bigger units, this bouncer actually has a really big slide! The angle is good too, so the kids can build up plenty of speed on the way down.
A big issue that I hear a lot about is when you have a bouncy slide where the slide is "sticky" or is too flat to really work well. That's not a problem with this model -- the slick material combined with an angle that's steep (but not too steep) combines for a great sliding experience.
This isn't one of the big name brands but it gets a lot of positive feedback, so if budget is a major factor for you then I would recommend this unit.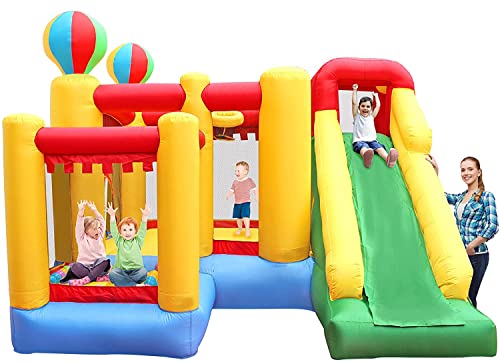 $429.99
more details
BESTPARTY Inflatable Bouncy Slide Bounce House 6 in 1 with Slide Basket Hoop Climbing Wall Tunnel Blower
BESTPARTY
Nylon coated Terylene/Laminated Oxford Terylene Imported
Approximately 10L×10W×7H(ft), total inflated size
With Jumping bed, Slide ,Climbing, Crawling Tunnel, Basketball hoop, ball pit
Max occupancy: 3-4
Including Bounce house,blower,ground stakes,carring bag, 2 basketballs,a box of plastic ball,repair kit
Buy it on Amazon
Common Questions and Issues
I hear (and read) a lot of feedback on bouncy houses in general, but when it comes to a bounce house with a slide, these are the specific issues that I hear about most often:
Size. Most parents end up regretting not getting a larger bounce house their first time out. It's really the most important factor because it's also the most limiting -- it'll determine not only how many kids can use it at once but how old (er... big) the kids can be to safely use it. Bigger is always better, if you can afford it.
Material. Some parents end up buying bounce house slides that are actually meant to be used with water. These one's don't always have the same material over the slide area as a true bounce house with slide normally would. In that case, the kids can kind of stick and end up bouncing down it rather than really sliding at all.
Other Slide Issues. The other most common slide issue I hear is that the slides aren't long enough or steep enough. For length this is pretty much directly tied to the overall size of the bouncy slide that you get. How steep it is will really depend on the specific model you get, so this is where doing your research can pay off. Our budget pick is well-known to have a nice, steep slide if this is a big concern of yours.
Should I Buy a Bounce House with a Slide?
If you're asking that question then I would generally say yes. To be honest, I've never regretted the first time I decided to buy a bounce house. Buying one with a slide is (usually) just a slightly larger investment, but the slide also generally means that your kids are going to get a lot more enjoyment out of it.
Also, if you're getting a unit with a slide instead of a more basic unit, odds are it'll be larger, which automatically makes it a much better candidate to be used at parties and on those long summer days with neighborhood kids.