Reviews
Little Tikes Slam 'n Curve Slide Review [October 2023]
Oct 5, 2023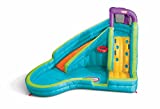 Quick Summary
If you're looking for an affordable, high-quality inflatable water slide for one or two kids then look no further than the Little Tikes Slam 'n Curve Slide. Simple, safe and fun, this is a water slide that will last your family years to come and provide a ton of memories along the way.
For young families looking to buy their first inflatable water slide, there are few options that are better than the Little Tikes Slam 'n Curve. It may not offer a ton of bells and whistles, but if you have a small group of children to entertain (realitsically, probably three or fewer) and they are under the age of 6 or 7 years old then this is the perfect inflatable water slide for you. Backed by a solid warranty, you'll be able to relax and let your mind be at ease as your kids have hours of fun with this unit.
Product Information
Before we dive into the details, let's start by taking a look at some basic product information about the Little Tikes Slam 'n Curve Slide. The following information was provided by the manufacturer (Little Tikes) on Oct 5, 2023.
From the Manufacturer
Here are some features that have been provided by the manufacturer:
Challenging inflatable rock wall leads to a slippery slide with a gentle curve at the end for a fun ride into the refreshing, landing pool
Designed so parents can see all the action.
Fun basketball hoop in splash pool area
Stakes anchor the bouncer firmly in place, while a heavy-duty blower provides continuous airflow
Built of puncture-resistant material
Inside bounce area : 85.00L x 71.00W x 46.0H inches
My Key Takeaways
Overall I love this slide. Solid construction and a very consumer-friendly warranty make this a very low-risk option, especially if you're considering it for your first inflatable water slide.
A slide like this can also be good to test the waters (no pun intended) on inflatables overall. The inflatable slide market feels like it's expanding by the day, and buying an affordable model like this when your kids are younger will give you a good idea of how they'll do with them in general.
If you are buying this unit, you may also want to invest in a storage bin for it. You'll also want to come up with a plan for how you'll dry it out after use. Luckily this is a smaller unit so it'll be easier than with some larger and more advanced models, but you'll want to be sure it dries all the way before you put it away for storage.
A friend of mine screwed in some hooks under his deck that he uses to hang up their inflatable water slide after use. It's a good way to ensure it airs out and dries completely. They have made their unit last a long time with this approach. So again, whether it's a hook-based system or some other approach, you need to be sure you dry it properly to prevent mold and mildew issues from happening.
Positive User Feedback About this Model
The Little Tikes Slam 'n Curve Slide has received mostly positive reviews on Amazon. Here are some common themes from customer reviews:
Durability. Many reviewers noted that the slide is well-made and durable, with sturdy materials that can withstand heavy use.
Fun. Reviewers also praised the slide for being a lot of fun for kids, with its water feature and multiple play areas.
Easy to Set Up. Several customers also noted that the slide is easy to set up, with clear instructions that make assembly straightforward.
Size. Some reviewers felt that the slide was a good size for younger children, but may not be ideal for older kids.
Customer Service. Several customers praised Little Tikes' customer service for being helpful and responsive when they had questions or issues with their purchase.
Negative User Feedback About this Model
Of course, as with any product, there were some negative reviews as well. Common complaints included issues with leaks in the water feature, difficulty inflating the slide, and problems with the blower motor. However, these negative reviews were in the minority and most customers seemed to be happy with their purchase of the Little Tikes Slam 'n Curve Slide.
Our Review: The Good and the Bad
For every product that is reviewed on this site, I like to condense the information down so that you can spend less time reading reviews and spend more time enjoying your life with friends and loved ones.
I was able to come up with four positive highlights for the Little Tikes Slam 'n Curve Slide. On the other side of the coin, there were two areas for improvement that I was able to identify.
First, the positive highlights:
Things I liked
After taking a good look at Little Tikes Slam 'n Curve Slide, these are the positive things that stood out:
When it comes down to it, this is one of the simplest inflatable water slides on the market, but that is really one of its biggest benefits. With a managaeable size, straightforward design and intuitive setup and cleanup process, this is a great product to introduce you to the world of inflatables, especially inflatable water slides.

Fast inflation and deflation time make this model super easy to set up and put away. There is always more time required to put the unit away, and I strongly recommend letting it hang somewhere to dry out before putting it in a storage bag or bin, but with that said this is one of the easiest water slides to manage that is on the market today.

Brought to you by a trustworthy brand. Little Tikes has been in business for a very long time, and they aren't going anywhere soon. They have earned a solid reputation in the inflatables category, and the Slam 'n Curve Slide is no exception.

Affordability and popularity means that you'll be able to find this unit in stock easily, and buying it won't break the bank. For a starter model like this, I think that is critical, and Little Tikes has nailed it with this one.
And now, some things you might want to watch out for:
Things I didn't like
The downsides that I noticed after looking at Little Tikes Slam 'n Curve Slide were:
There's only one lane for sliding. Unlike some competitors' products (and even some of Little Tikes own models), this model only has one actual slide. If you use it correctly (for children who are the proper age) this doesn't end up being too big of an issue, but if you plan on using it at parties or in larger group settings then you might have some overcrowding.

The overall small size of this slide means that you'll have a relatively limited lifespan for the product. I generally say that this is good for kids up to about 7 or 8 years old, but there are a lot of factors involved. The overall size of the kid is the biggest factor. In any case, you won't be sending your middle schoolers off to play on this unit. As long as you know that going in then you'll probably be just fine.
Conclusion
Alright, that's what I've got for you today. I hope my thoughts on the Little Tikes Slam 'n Curve will help guide you in your process of choosing an inflatable water slide for your family. In my mind, anybody who buys this water slide can breathe easily knowing that the product they just bought will be supported and backed by a quality company who truly cares for their customers.
Related Products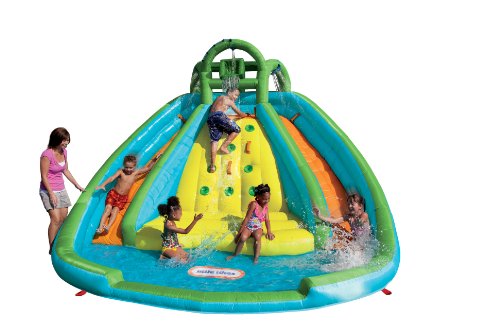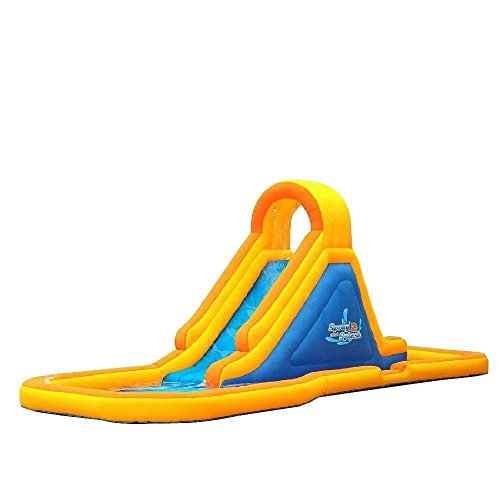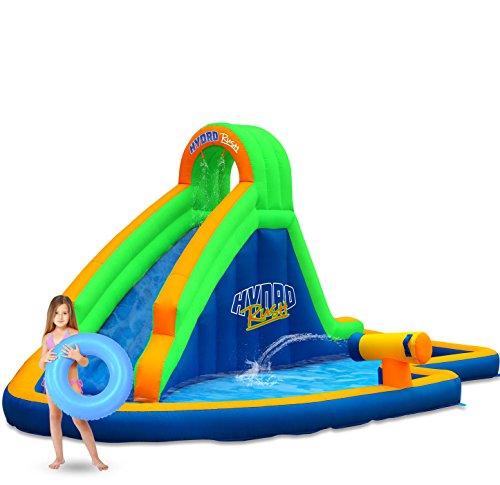 Questions or Comments?
Please reach out! Hearing from my readers is the best part of running a website. Simply put, it's how I learn and grow.