Reviews
Little Tikes Jump and Double Slide Bouncer Review [October 2023]
Oct 5, 2023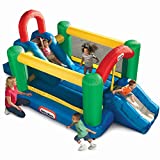 Quick Summary
The Little Tikes Jump and Double Slide Bouncer is a high-quality, underrated bounce house that can serve as a great starter model for most families. It comes from a brand that you know and can trust, and will provide hours and years of fun and entertainment for your family.
These days, when I look for a product, I look for something that I know will be backed by the people who made it. I look for a product that is made by a company that will be there to support me if something goes wrong or offer spare parts and repair kits if I ever need them along the way. That's what you get when you buy the Jump and Double Slide Bouncer from Little Tikes. Made by a company that has been around for more than 50 years, you'll sleep easily knowing that this was a solid purchase.
Product Information
Before we dive into the details, let's start by taking a look at some basic product information about the Jump and Double Slide Bouncer. The following information was provided by the manufacturer (MGA Entertainment) on Oct 5, 2023.
From the Manufacturer
Here are some features that have been provided by the manufacturer:
Tall, protective walls surround a large jumping area, including 2 big slides with side rails
Product Size :168.00''L x 108.00''W x 84.00''H(Inches), Inside bouce area : 85.00"L x 71.00"W x 46.00"H (inches)
Mesh door closes to protect children and allow parents to watch the fun
Stakes anchor the bouncer firmly in place while heavy-duty blower provides continuous airflow
Built of puncture-resistant material with durable mesh netting, Includes heavy-duty blower with GFCI, stakes, repair kit and storage bag
Key Takeaways
I'll be totally honest here. I'm a little bit conflicted on this model. It is definitely a solid bounce house from a brand that will not let you down, but the features of this particular unit leave me wanting more. The fact that the additional, larger slide is the big selling point for this unit is cool and everything, but when it comes down to it, the amount of usable jumping space that it lost because of it almost outweighs that benefit in my mind.
Even with that being said, I always come back to the fact that Little Tikes is a solid option for just about any purchase you make for your kids. I know that if I'm not satisfied with one of their products that they'll stand behind it and work out any issues with me.
And that's how this unit earned its relatively high rating. Brand trust has gone a long way for me in the past and I am a true believer in sticking with products that work. Based on how infrequently I see people return this particular unit (almost never), I can tell you that people who purchase it are generally happy.
Our Review: The Good and the Bad
For every product that is reviewed on this site, I like to condense the information down so that you can spend less time reading reviews and spend more time enjoying your life with friends and loved ones.
I was able to come up with four positive highlights for the Jump and Double Slide Bouncer. On the other side of the coin, there were two areas for improvement that I was able to identify.
First, the positive highlights:
Things I liked
After taking a good look at Little Tikes Jump and Double Slide Bouncer, these are the positive things that stood out:
Well-built, reasonably priced boune house that comes from a trusworthy brand. This unit will stand the test of time. It's definitely not commercial grade, but it has a solid warranty and durable construction that will give you peace of mind.

Decently-sized, capable of holding several kids at one time. Good for smaller parties or gatherings. I would recommend that this unit be used with kids who are 6 and under, but kids as old as 8 or 9 can probably use it, as long as they are supervised and use caution.

Comes with everything you need to set up and use the product safely, and a convenient storage bag allows you to keep it put away neatly when you're not using it.

Quick inflation time means that you can set it up on short notice. And with a relatively quiet blower, you'll still be able to have conversations while you're in the same room.
And now, some things you might want to watch out for:
Things I didn't like
The downsides that I noticed after looking at Little Tikes Jump and Double Slide Bouncer were:
Relatively limited in its expected useful life. While it is durable enough to stand up over time, the size of the unit make it impractical for kids over 8 or 9 years, and even that is probably pushing it a bit too far.

Somewhat awkward design reduces the usable space inside of the unit. While the second slide coming in from the outside of this model can be fun, it also reduces the floor area inside the bouncer by about 30%. This makes the unit feel much smaller than it actually is.
Conclusion
So there you have it. I'm a little bit conflicted on this particular model from Little Tikes because the additional slide makes it a little bit harder for multiple kids to jump, but it's still a high-quality, reliable and affordable model that would be suitable for any young, growing family.
Related Products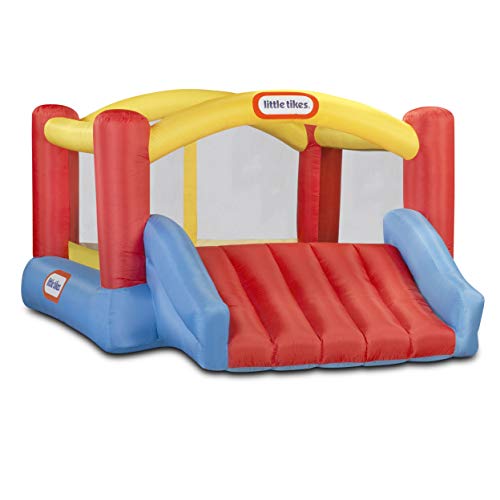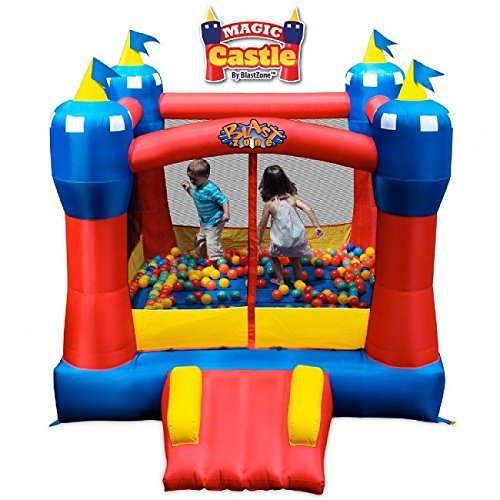 Questions or Comments?
Please reach out! Hearing from my readers is the best part of running a website. Simply put, it's how I learn and grow.