For the first brand in my Brand Review series, I'll be taking a look at Bounceland. In this series in general I'll be taking a look at a variety of brands that make bounce houses and other similar products. I'll be focusing most of my attention on what I consider to be some of the bigger players in the market, but I'll also try to include some of the lesser-known and up-and-coming brands that I've seen emerge lately. If you're in the market for a bounce house, trampoline, or inflatable water slide, then you can breathe easy knowing that you've never had more choice than you do now. New companies are springing up left and right to try to get in on the action in this very hot, fast-growing market.
Is Bounceland a Good Brand?
In short, yes. Overall I rank them third behind Blast Zone and Little Tikes, but I rank them above others like Cloud 9, Island Hopper and Costzon. They have a solid warranty, and overall good quality that makes them a good value brand for most families.
If you can afford to spend a little bit more, I'd recommend going with Blast Zone. They have a product line that's nearly identical to that of Bounceland, but in my experience the Blast Zone unit will feel a little thicker and nicer.
What is Bounceland MTG?
To be completely honest, I'm not totally positive but I believe it's just a sister company that Bounceland uses to manufacture its products. It may also just be a seller alias on Amazon, again I'm not 100% sure. Either way, if you see that label, it's the same thing as if it were called Bounceland.
So, don't worry if you see Bounceland MTG - you can be assured that you'll be getting an official Bounceland brand inflatable if the manufacturer name happens to be listed as Bounceland MTG.
Products that they Make Include the Following:
Bounceland Bounce House
Bounceland is most known for their bounce houses. And with that, they have a really wide variety of options that can fit your needs whether you're looking for a small unit for your basement, a bounce house for your toddler or something for your pre-teens to keep themselves busy with. One of the most popular units that I know of the the Pop Star inflatable bouncer. Like its name implies, it's a big bouncer! It's a no-frills option, but if you're looking for a quality bouncer that is simple and straightforward, it's a great candidate Most buyers enjoy the large jumping area and overall quality of the bouncer.
Here's a bit more detail on the Bounceland Pop Star Inflatable Bounce House Bouncer, Large Bouncing Area with Long Slide, Climbing Wall, Basketball Hoop, UL 1HP Blower Included, 15 ft x 13 ft x 8.3 ft H, Pop Star Kids Party Theme: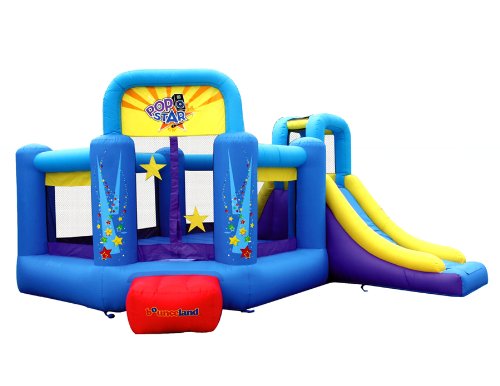 $459.00
more details
Bounceland Pop Star Inflatable Bounce House Bouncer
Bounceland
[Specification] Inflated size: 15 ft W x 13 ft Lx 8.3 ft H. Package includes: bounce house, blower, carry bag, stakes, repair kit and instruction....
[Quality Assurance] 1) Heavy-duty puncture proof material with double to quadruple. 2) Half way hook-and-loop fastener opening for safe & easy...
[Safety Standards] Bounceland products have been tested and approved for meeting and exceeding current world-wide requirements. We have been...
[Satisfaction Guaranteed] Product satisfaction is our goal. All Bounceland bounce houses come with a 90-day limited warranty covering manufacturing...
[Perfect Gift] Perfect gift idea for children to stay fit and active. Physical exercise and interaction with friends to replace screen time.
Buy it on Amazon
Bounceland Water Slide
Bounceland Castle Bounce House
Conclusion
Overall, I think Bounceland is a great brand. They make solid products and stand behind them with a great warranty. In the inflatable business, you won't find too many brands that give you more bang for the buck.
That said, if you want to spend a bit more, try to find something from Blast Zone or Little Tikes.