Hey guys! This is my ultimate trampoline guide for 2018. I hope you find it useful. Questions I'll answer in this article:
How much does a trampoline cost?
Average trampoline cost:
$450 - 15 ft.
$350 - 14 ft.
$250 - 12 ft.
$100 or less - 7 ft.
These are guidelines that, I feel, are pretty accurate, but you can always find cheaper trampolines if you really try. Check garage sales for some great deals. Craigslist often has decent trampolines, too, but I've found that people usually ask more on CL than they do at a garage sale.
How dangerous are trampolines?
With proper usage and supervision, trampolines are very safe.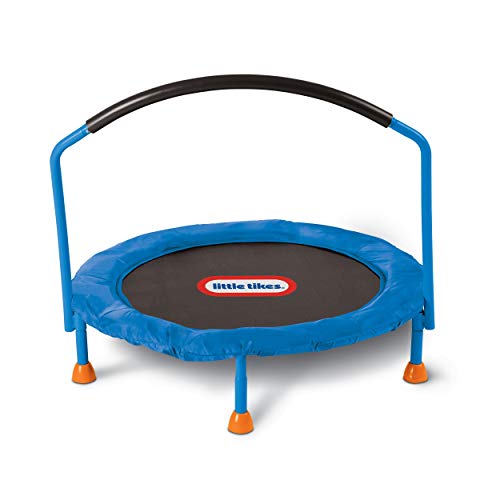 Little Tikes 3' Trampoline – Amazon Exclusive
Manufactured by:
Little Tikes
Price:
$70.30
As with most things you let your kids do, the level of risk involved is really up to you. If you take the time to teach your kids proper technique and rules, and if you actually enforce those rules, your kids will be just fine. If you think you can turn them loose on it without talking to them about safety and giving them some instruction on how to do things, you'll probably end up in a bad situation.
I also personally think it helps if you expose your kids to trampolines at a younger age. We were lucky enough to be able to send our kids to some tumbling classes when they were 3 and 5, and I think it helped give them a solid foundation on the trampoline. You could see their progress from week to week, both in the gym and at home on our own trampoline. Our little guy was pretty wobbly the first few times out, but he got his legs under him pretty quickly at the end of the day.
Beyond that, there are some basic rules you should enforce when your kids are jumping. No flips, limit the number of kids to two of three, no toys or other objects on the trampoline. Those are the basics that we follow in our house, and they've worked pretty well so far.
What sizes do trampolines come in?
A typical trampoline is either 12ft, 14ft or 15ft.
As far as enclosed trampolines go, you can get down to a 7 footer, but that's about as small as it gets. They also make smaller 3 foot trampolines that are typically more for exercise, but that are often used by children as well.
Little tikes offers some trampolines for smaller kids, and companies like Skywalker and Giantex make some of the bigger models.
What is the biggest size trampoline?
Currently the biggest consumer grade trampoline you can get is about a 10' x 23' rectangle. Trampolines like this are huge, and usually support about 500 lbs. That translates to about 4 or 5 kids in their early teens.
Huge trampolines like this are truly awesome, and it's great that they support so much weight and so many kids, but be prepared - one of these will cost you thousands of dollars. That's right, I said thousands.
What size trampoline mat do i need?
If you're asking this question, then you're a proud owner of a trampoline who has run into some bad luck. I've been there before. In order to determine the size of trampoline mat that you need, I recommend the following:
Measure the frame of your trampoline, directly through the middle of the circle. In other words, measure from one end to the other with the distance between the two being the maximum possible.
Measure the length of an existing spring, with no tension on the spring.
Multiply your spring length by 2, then subtract that number from the measurement you took in step 1. So, Frame Diameter - (2 x Unstretched Spring Length). That'll give you the mat size.
Finally, count the number of rings around the existing mat.
Which is the best trampoline to buy?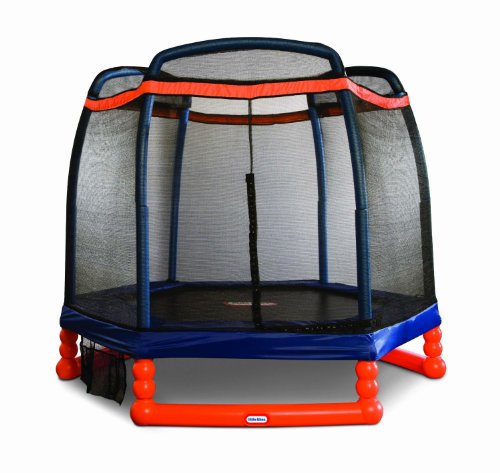 $259.99
more details
Little Tikes 7' Trampoline
MGA Entertainment
Durable, high-quality kid trampoline with protective safety net for safe, bouncy fun
The frame is made of durable blow-molded plastic and high-quality materials
Springs covered by protective padding. Ground To Jump Surface-Height is 17 inches high
Trampoline designed for home outdoor use only
Easy to assemble
Buy it on Amazon
What is the safest trampoline to buy?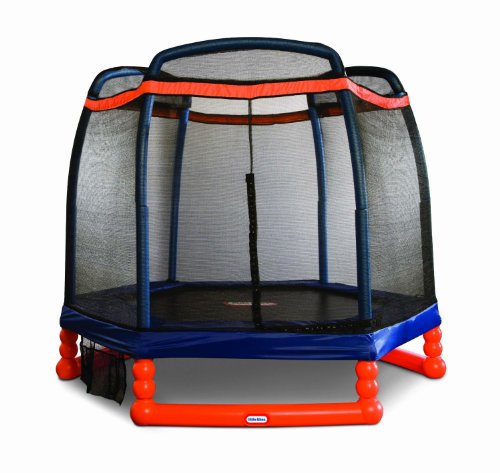 $259.99
more details
Little Tikes 7' Trampoline
MGA Entertainment
Durable, high-quality kid trampoline with protective safety net for safe, bouncy fun
The frame is made of durable blow-molded plastic and high-quality materials
Springs covered by protective padding. Ground To Jump Surface-Height is 17 inches high
Trampoline designed for home outdoor use only
Easy to assemble
Buy it on Amazon