A water slide bounce house is one of the best sources of warm-weather entertainment your family will ever own. They're affordable, convenient, and offer literally endless fun for your kids from young to old.
But first, a quick note: There are a lot of bounce houses on the market, with many online offerings coming out in the last year or two. In my opinion, you can't go wrong with Blast Zone or Bounceland , and for smaller kids Little Tikes may have a lot to offer.
The Best Bounce House Water Slide: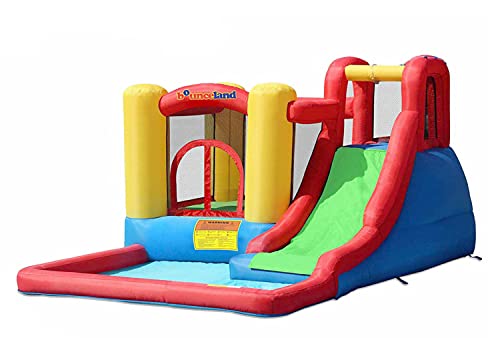 $312.47
more details
Bounceland Jump and Splash Adventure Bounce House or Water Slide All in one, Blower Included
Inflatable Impressions LLC
【Specifications】1) Product Size: 11.5 ft L x 9 ft W x 6 ft H, 4.5 x 4.25 jumping area, 6.5 foot slide, 6.5 x 4.8 pool area, basketball hoop,...
[Quality Assurance] 1) Heavy-duty puncture proof material with double to quadruple stitches for a highly durable inflatable bouncer 2) Half way...
【Safety Standards】 Bounceland products have been tested and approved for meeting and exceeding current world-wide requirements. We have been...
【Satisfaction Guaranteed】 Product satisfaction is our goal. All Bounceland bounce houses come with a 90-day limited warranty covering manufacturing...
【Perfect Gift] 】 Perfect gift idea for children to stay fit and active. Physical exercise and interaction with friends to replace screen time.
Buy it on Amazon
I've reviewed plenty of water slide bounce houses. Based on what I've read, I can easily say that the Bounceland Jump and Splash Adventure Bounce House or Water Slide All in one, Large Pool, Fun Bouncing Area with Basketball Hoop, Long Slide with Climbing Wall, UL Certified Blower Included seems to be the consensus favorite on the internet. It's quality, features and price make it an option that is hard to beat when you're looking for a bounce house water slide combo.
From my perspective, the best water slide bounce houses are:
Finding the best one can be a challenge, and I'm here to try and help. Our family has only used a couple of these models, but I've done my best to provide a decent round up of the available water slide bounce houses that are available at most locations throughout the US.
Water Slide with Bounce House Options
These are the top four options I could find for water slide bounce houses. I've taken a look at the Amazon reviews for these and they all look pretty average overall. No real standouts, good or bad, so I think these are all pretty average models. In any case, here they are: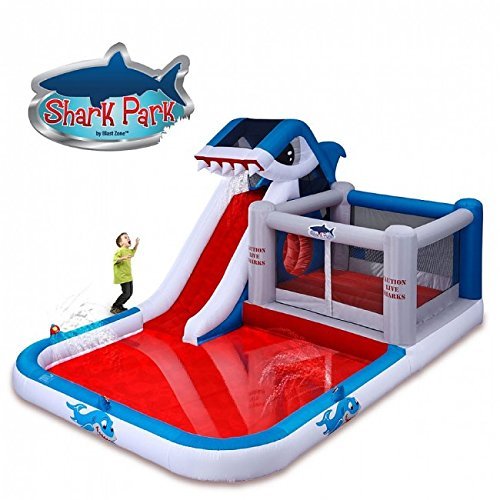 $599.99
more details
The Blast Zone Shark Park Inflatable Water Park Bouncer is an awesome water slide bounce house. It can handle just about anything you want to throw at it, and it's large enough to keep at least 4 or 5 kids busy with plenty of elbow room. This is one of few models that has an actual bouncing surface integrated into a water slide - and the price reflects this. But Blast Zone builds high quality bounce houses, and so I'm sure this one is no different. It looks like a ton of fun.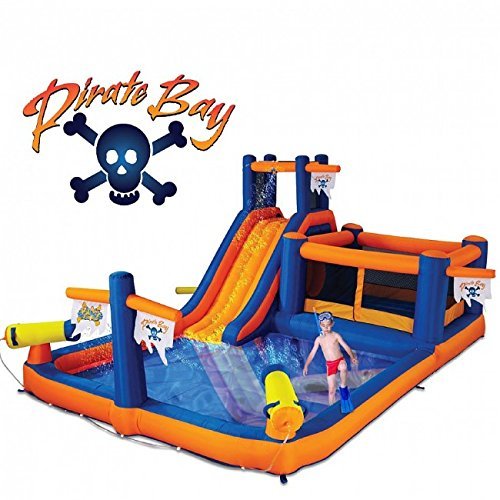 $499.99
more details
Well, just as I say that most water slide bounce houses don't have a dedicated jumping surface, along comes the Blast Zone Pirate Bay Inflatable Combo Water Park and Bounce. Like its cousin the Shark Park, this unit does have a large jumping surface to go along with the splash pool and water slide. It's another fantastic, if not expensive, unit from Blast Zone.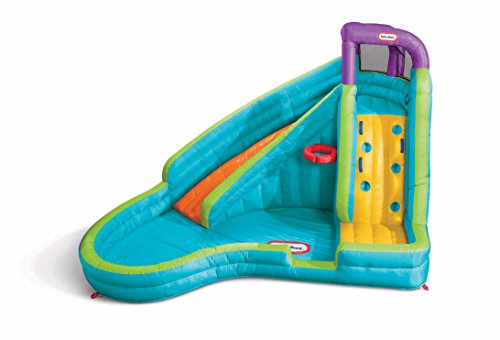 $411.99
more details
Little Tikes Slam 'n Curve Slide
Little Tikes
Challenging inflatable rock wall leads to a slippery slide with a gentle curve at the end for a fun ride into the refreshing, landing pool
Designed so parents can see all the action.
Fun basketball hoop in splash pool area
Stakes anchor the bouncer firmly in place, while a heavy-duty blower provides continuous airflow
Built of puncture-resistant material
Inside bounce area : 85.00L x 71.00W x 46.0H inches
Buy it on Amazon
The Little Tikes Slam 'n Curve Slide is a great entry-level unit for parents with smaller kids or kids who aren't used to water slides. It has one slide, a small splash pool area, and a basketball hoop that will keep smaller kids occupied for quite a while. The unit only support two or three kids at a time (three assuming that they're smaller kids - three years old or so), so it's not going to be a great party inflatable, but it'll be a ton of fun regardless.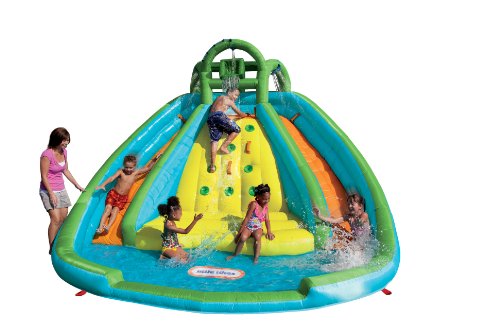 $489.24
more details
Little Tikes Rocky Mountain River Race Inflatable Slide
MGA Entertainment
Fun outside inflatable water bouncer includes climbing wall, two slides, and splash pool
Maximum number of kids is 4 and the maximum combined weight limit is 350 lbs.
Internal Box Size: 15.75''L x 28.75''W x 16.25''H (all dimensions are in inches )
A surprise dump bucket pours water on kids climbing up the center inflatable rock wall
Product Size 161.00L x 169.00 W x 103.00 H
Buy it on Amazon
The Little Tikes Rocky Mountain River Race Inflatable Slide Bouncer is basically just the Slam n Curve, times two. It has two slides so you can have two kids playing at a time without getting in eachother's way. It's still not a huge unit by any means so it's not the best for parties or that kind of thing, but it'll provide hours of entertainment for your family anyway, and it's a great water slide bounce house.
With all of these units, you'll easily be able to sell them online on craigslist or any other online garage sale service of your choice. Not only did we do this with ours, but we've seen many of our neighbors doing the same thing. Usually it's the little tikes units that end up being sold - that could just be because they're a popular brand.
Who Should Own a Bounce House Water Slide?
My answer to this question is, routinely, anybody who is currently thinking of renting a bounce house for an occasion and who may also have kids. Generally bounce houses are more worthwhile when you have younger kids to begin with, but these days they are easy enough to resell if your kids outgrow them sooner.
Overall, in terms of renting or buying, I would say that if you tend to have a lot of gatherings where you have a small-ish group of kids (say, less than 8 or 10), then buying could definitely be a good option for you. If it's for more of a one-time use kind of thing, or if you have a larger group of kids, then rental may be a more realistic option for you.
That does all depend on which bounce house you buy, though. If you have a larger group, you could always just buy a commercial grade bounce house and then it wouldn't be a problem. You'll pay roughly double, but then it's yours to own and will have a higher capacity for more kids and a longer life expectancy in general.
Finding a Bounce House with Water Slide for Sale
There are a few places that I use as my go-to's for buying bounce house water slides. My first option is always Amazon. Look, let's be honest here, these things don't weigh a ton in the first place, but if you have the option of having one delivered right to your door step, wouldn't you take that opportunity?
It's also nearly impossible to beat the selection on Amazon. They havejust about all the water slide bounce houses for sale that you could ever want or need. All right at your fingertips. It's really hard to beat.
The next place I usually go is Wal-Mart, although the selection there is drastically smaller than you'll find on Amazon. Like, you'll be shocked, and you'll be lucky to find one or two models in store. If you do manage to find one there, it'll usually be the top seller in the category. This is good and bad - but hopefully it works out for you.
There is one last place I ever check to find an inflatable water slide bounce house, and that's Target. Honestly, I've had even worse luck here than I have at Wal-Mart, but you will occasionally find a unit in store there. They also have a decent online selection and usually have more options there than they do in the actual store.
What About a Water Slide Bounce House Combo?
Many models out there claim to be wet/dry units or have multiple dedicated play areas but it's not always the case. Back when I first started this site, there weren't very many true combo units at all. There was one called the Blast Zone Shark Park that used to be a strong recommendation but it's since been discontinued. With that said, these days there are a lot of combo units out there, and so you have to be somewhat careful of which brands you buy.
One of the best water slide bounce house combos that you can buy is the Blast Zone Pirate Bay - Inflatable Water Park with Blower - Large - Slide - Climbing Wall - Bounce House - Tunnel. It comes with all the features you want from a brand that you can trust. And while you're bound to get some water in the "dry" areas of the unit, it is as good as it gets in terms of having a true water slide bounce house combo.
With that said, there are plenty of options out there and, for myself, I'll always trust Amazon's order handling and return policy. Even with some of the lesser known brands popping up these days, it's good to know that all you have to do is send it back within a certain number of days and you won't have to worry about it. Heck, you can even bring the items straight to some local retailers like Kohl's and they'll take care of the whole thing for you. My point is, even getting one of the more unknown or newer brands is even less risky than it used to be.
Here is a pretty exhaustive list of the current water slide bounce house combos you can find on Amazon: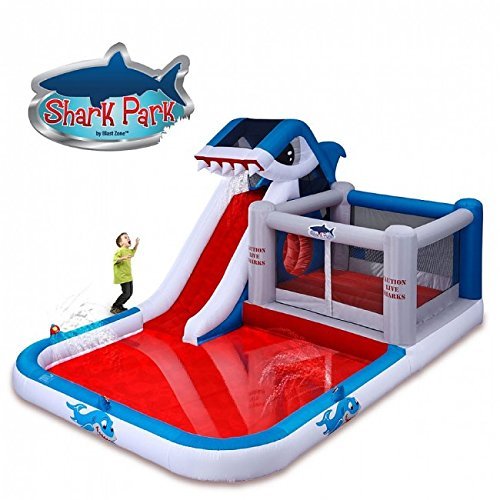 Blast Zone Shark Park - Inflatable Water Park Bouncer with Blower - Climbing Wall - Slide - Splash Area - Huge
Manufactured by:
Blast Zone
Price:
$599.99
Conclusion
That's about it! That's my quick roundup of water slide bounce houses. I hope this guide has made it easier for you and your family to find a unit that will be entertaining and fun for many years to come.
As always, if you have any questions or anything else to say feel free to post a comment below. I'll review them as soon as I can, and I always try to respond to all comments. Anything you have on your mind — just let me know and I'll try to respond.
Thanks for reading and, until next time, keep bouncing!