The Blast Zone Magic Castle is a supremely solid and durable option if you're looking for a basic bouncer that will last you a lifetime. With many competitors in this category of bounce house, this unit stands out for not only the craftsmanship but also the quality of materials used.
Vitals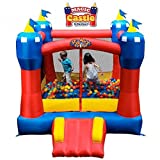 Features, Dimensions and Capacity 8.5' W x 11' L x 8' H Footprint; 102" x 100" Bounce Platform (Outside Dim); 78" x 76" Bounce Area (Inside Netting); 40" W x 34" L Entrance Ramp/SlideFeatures; Commercial Vinyl Bounce Floor; Commercial Double Stitching; High Safety Netting; Safe-Slope Slide; Low Enough for Indoor Use; Ages 3 to 8, walls 60" from bounce platform
The Basics
It's big enough for 3 kids to jump at once, with a combined weight limit of 300 lbs. It features a basic entrance ramp with added bumpers on the side for additional protection. Quality netting and a hook and latch system keep the kids safely inside the bouncer, and it features walls that rise a full 5 feet off the bouncing surface.
Safety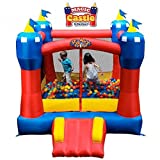 The Magic Castle bouncer represents a category of very simple, no-frills models. For that reason it's generally a very safe unit.
The high build quality in general adds to the feel of safety -- even though your kids shouldn't try to jump into the sides, we all know it happens -- so you can rest assured your little ones will be just fine as they jump.
With a hook and latch entrance system, the opening feels solid when it's closed, but it's easy to open and re-close when you need to.
As with all inflatable bouncers, using common sense goes a long way. Don't let too many kids jump at once (the manual says 3 at a time, you can probably get away with 4 or 5 if they're smaller kids) but, more importantly, keep an eye on the kids as they jump!
Nearly all bouncer incidents can be prevented by having a parent nearby and actively monitoring everything that happens inside the bouncer. Follow this rule and you'll be good to go.
Special Features
Nothing to report here! Just kidding, sort of. As I've said, this is a basic model. It's outstanding quality (and rock solid 2-year warranty) really stand out as the big features.
If you're looking for features like bigger slides, basketball hoops, or other obstacles, consider looking at x, y and z. I've reviewed those here as well, take a look if you're interested in some other options.
If you want to spice this model up, one option is to buy a bag of plastic balls and turn it into a pseudo ball pit. You'll need about 500 balls to fill an area this big if you do decide to pursue that option.
The Downside
The biggest downside to this unit is the cost. Part of its high quality is a high material cost for the manufacturer, and that shows through on the price tag.
To put a spin on that, the upside of the high quality and price is durability and a long life expectancy. This is one that generally lasts long enough for your kids to outgrow it. That's not necessarily common when it comes to inflatables, bounce houses in particular.
Overall Verdict
Overall, this is a fantastic unit for you and your family. Believe it or not, your kids will grow to love the simplicity and quality of a bouncer like this. And with a commercial-grade build, they'll be bouncing for a long time to come.
Comparable Bouncers
This unit is similar in style to several others, including x, y, and z. Compared to x and y, this unit is definitely made of more durable, commercial-grade materials. Depending on your priorities, you might want to choose this unit over any of the others.