The Little Tikes Jump 'n Slide Bouncer is a basic bouncer offered at a decent price point. It comes in two sizes (regular and junior) and both sizes are compact enough to be practical for indoor or outdoor use. The main feature of this model truly lies in its simplicity but despite being relatively bare-bones it will undoubtedly provide years of fun for you and your kids. You can usually find this unit at a local Wal-Mart or Toys 'r Us, and you can always get it on amazon as well.
Vitals
Large jumping area: 12' x 9'
Tall walls with mesh netting surround a large jumping area.
Mesh walls to protect children, and allow you to watch the fun.
After inflation, blower must run continuously while children are playing.
Bouncer must be firmly anchored in place before jumping.
Accessories include: Storage bag, Heavy-duty blower with GFCI plug, Repair kit, 4- Blower stakes, 6- Bouncer stakes.
Maximum number of kids: 3
Maximum combined weight limit: 250 lbs.
The Basics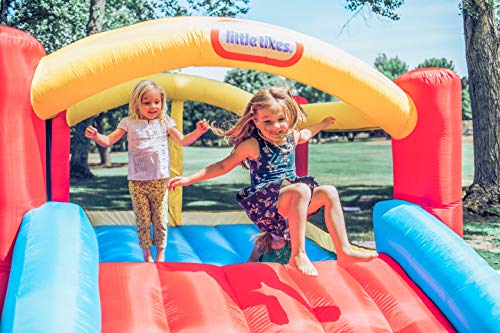 The Little Tikes Jump 'n Slide Bouncer is a solid, high-quality option for parents looking to buy their first inflatable. At the end of the day, it is a no-frills option, but your kids will enjoy it regardless. It's small and lightweight enough for mom or dad to set up and take down, and with a decent blower, repair kit and stakes it offers everything you'll need to use it safely and keep it running.
Safety
The Jump 'n Slide Bouncer is definitely one of the safest in its category. With its straightforward design and construction, there aren't many bells and whistles there to introduce any safety issues or risks. The main feature - a slide which is also used as an entry ramp - boasts a low profile so your little ones will be able to get in and out easily without tumbling along the way. As with all bouncers, making sure that you follow the safety guidelines will help ensure safe enjoyment.
Special Features
This bouncer offers a slide that doubles as an entry ramp. It's a relatively low-profile slide, and presents very little risk for children of almost any age. Simplicity and quality are the real "special" features here, and those are great qualities to look for in your first bouncer. Other than the entry slide, there are no real accessories or supplemental items inside the bouncer. If you're looking for features like a slide or basketball hoop, there are plenty of other options available. Little Tikes generally won't be the brand to provide those types of features.
The Downside
While this model is generally very highly rated by owners, the one issue that tends to come up is the length of the warranty offered by Little Tikes. While most bouncers offer a one year warranty on both the blower and the bouncer itself, Little Tikes only offers a 90-day warranty on the bouncer. And while the materials are generally very highly regarded, some users have reported tearing and excessive leaking at the seams that have rendered their units unusable. As with everything, your mileage may vary, but this seems to be the one consistent knock against this product.
Overall Verdict
Overall, this is a fantastic entry-level bouncer suitable for young families with small children. It has a basic set of features, but the materials and craftsmanship are generally very good. You should be able to expect years of enjoyment from this model.
Comparable Bouncers
This model is similar to others such as the Blast Zone Magic Castle Inflatable Bouncer (a more durable entry-level bouncer), Again, the main point of emphasis with this model is that the offerings from Blast Zone are generally higher quality and will likely end up lasting you longer.