Buying a bounce house can be an intimidating ordeal. There are so many options these days, it can be stressful, confusing and frustrating. I've done my best to break down your decision here. I'll outline the major brands, features and common complaints so you can make the best decision and start enjoying a new bouncer.
Before I do that, here are my top five bounce houses:
1.
Little Tikes Jump 'n Slide Inflatable Bouncer Includes Heavy Duty Blower With GFCI, Stakes, Repair Patches, And Storage Bag, for Kids Ages 3-8 Years

$298.00

2.
Bounceland Bounce House Castle with Basketball Hoop Inflatable Bouncer, Fun Slide, Safe Entrance Opening, UL Certified Strong Blower Included, 12 ft x 9 ft x 7 ft H

$209.00

3.
Little Tikes Jump and Double Slide Bouncer, 168.00 L x 108.00 W x 84.00 H Inches , White

$277.18

4.
Blast Zone Magic Castle - Inflatable Bounce House with Blower - Premium Quality - Indoor/Outdoor - Portable - Sets Up in Seconds

$249.99

5.
Bounceland Pop Star Inflatable Bounce House Bouncer, Large Bouncing Area with Long Slide, Climbing Wall, Basketball Hoop, UL 1HP Blower Included, 15 ft x 13 ft x 8.3 ft H, Pop Star Kids Party Theme

$459.00
2019 UPDATE: Each time I do one of these updates I come across more and more cheap, knock-off brands. I'm also seeing a lot more cases of bounce houses being returned, in most cases off brands that I don't typically promote. Keep an eye on the reviews, and remember that in the end you absolutely get what you pay for.
About this Guide
This guide is sorted by brand, feature set and model. The aim is to give you a complete picture of the inflatable bounce house market (or bouncy castle, moonwalk, jumper, whatever you want to call it) so you can feel confident and informed as you move through the shopping process.
I welcome any and all feedback you have on this guide. It is a continual work in progress, originally authored in December of 2016 and updated in February of 2017... then updated a few more times :). I'll do my best to keep the guide updated over time, and will clearly indicate (within the article) when an update has been made.
The Major Brands
There are really five major brands of residential grade inflatable bouncers for home use. Five of the most common brands that dominate the market are Little Tikes, Blast Zone, Bounceland, Cloud 9 and Island Hopper.
In addition to these five common brands, I like to lump the rest into a group that I just call the generics. The reality is, it's not that hard to find a manufacturer in China, list a product on Amazon, and wait for it to sell. You'll see a lot of this out there. Generally I prefer to avoid these brands -- they just don't give me a good feeling.
Little Tikes
Little Tikes is one of the more well-known brands in the bounce house market. However, they only serve a small section of the market due to the fact that their bounce houses are geared more toward younger kids -- 5 years of age and under.
With that being said, they are generally the leader when it comes to toddler bounce houses. With offerings like the Jump 'n Slide Bouncer and the Jump 'n Double Slide Bouncer, they offer products that are small and convenient and yet still provide tons of fun for your kids.
Common Features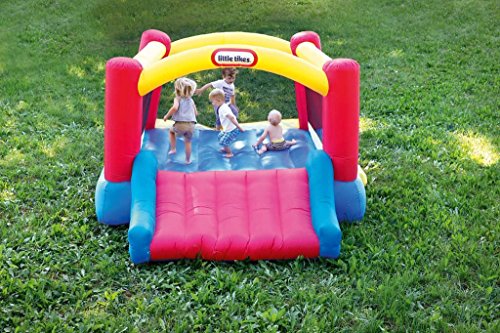 Most little tikes houses boast a small size that offers a ton of convenience and flexibility for parents. They are also typically very light weight, due to nylon-based construction rather than the heavier PVC used in commercial (and some residential) models.
On the downside, that light material is generally regarded as much less durable than PVC. Couple that with the very conservative 90-day warranty offered by Little Tikes, and the result has been fairly substantial number of unhappy customers. Put another way, the most common problem you'll see with a Little Tikes bouncer is that the unit tore and was past the warranty period.
Popular Models
The best seller in the Little Tikes line of bounce houses is the Jump 'n Slide Bouncer. It's a basic entry-level bounce house that's suitable for kids from as young as one year up to about five years old. It's very highly rated, with the one common complain being that it isn't extremely durable compared to some other brands and models. I've reviewed this bounce house in detail, so you can refer to that article for more information.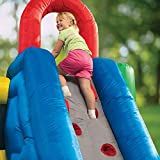 Another top seller for Little Tikes is the Jump 'n Double Slide bouncer. It offers two slides -- one very similar to the slide featured in the Jump 'n Slide bouncer, and a bigger one located inside the unit. This bbouncer, while not offering as much jumping room inside, is always a lot of fun for the kids.
Blast Zone
Brand Summary
Blast Zone is definitely not as well-known or established as Little Tikes, but they offer products in a much more specific niche and cater to a more narrow audience. In terms of the quality of product they produce, they are quickly developing a reputation for their high-quality, commercial feel and their friendly 2-year warranty.
Common Features
Blast Zone does offer a range of features within their product line. From basic bounce houses that are comparable to some Little Tikes models, to humongous obstacle courses, you can find anything you're looking for in a bounce house when you buy from Blast Zone.
As I've mentioned, they also offer a more commercial-grade feel than a lot of residential bouncers. Blast Zone inflatable typically feature PVC on the main bouncing or activity surface, and this not only adds to the durability of the product but also makes it safer for your kids to use.
Popular Models
Superstar Inflatable Party Moonwalk
The Bounceland Bounce House Castle with Basketball Hoop Inflatable Bouncer, Fun Slide, Safe Entrance Opening, UL Certified Strong Blower Included, 12 ft x 9 ft x 7 ft H is a popular unit with a very favorable Amazon rating. It's one of the larger basic residential units, coming in at 12' x 9' x 7'6" (L x W x H). This unit can hold up to five kids at a time, which gives it a big advantage over your average bouncy castle.
If you want a high-quality bouncer that offers a lot of space and has the ability to support bigger kids, this is a great unit for you. If you're looking for something a little smaller and more managable, you should look at some other products in the Blast Zone line.
Little Bopper
The Bounceland Bounce House Castle with Basketball Hoop Inflatable Bouncer, Fun Slide, Safe Entrance Opening, UL Certified Strong Blower Included, 12 ft x 9 ft x 7 ft H is one of the leading bouncers available for toddlers and smaller kids. It's one of the smaller units, coming in at 12' x 9' x 7'6" (L x W x H). This unit only holds up to three kids at a time, but it's compact size makes it very convenient for a lot of parents.
If you're looking for something along the lines of the Little Tikes Jump 'n Slide Bouncer, the Little Bopper is it. And with the amazing two-year warranty offered by Blast Zone, it's really a toss-up between the two brands. What pushes me toward Blast Zone is their durable construction that's closer to commercial-grade than residential.
Pirate Bay Inflatable Combo Waterpark and Bouncer
I like this unit because it offers some variety compared to the basic jumpers. The Bounceland Bounce House Castle with Basketball Hoop Inflatable Bouncer, Fun Slide, Safe Entrance Opening, UL Certified Strong Blower Included, 12 ft x 9 ft x 7 ft H is a great option if you're looking for an outdoor bouncer and/or water slide. Being an outdoor unit, it's very large , coming in at 12' x 9' x 7'6" (L x W x H). It'll hold up to five kids at a time, and with a splash pool, water slide, water cannons and jumping area, this unit is sure to keep all five kids busy.
One unique feature of this model is the jumping area integrated into the water park. In my experience, most of the wet units are limited to slides and splash pools, and so the added element of a bounce area really adds to the fun for your kids.
Bounceland
Brand Summary
With heavy-duty vinyl and nylon construction, and double and quadruple stitching, Bounceland produces high-quality products, and offers a wide variety at that. Their warranty leaves something to be desired, coming in at 90 days for the bouncer itself and one year for the blower. As is common, they don't cover damage caused by you, or things like mold and mildew from improper storage.
Despite their somewhat restrictive warranty, Bounceland offers many high-quality bounce houses, water slides and obstacle courses. The variety of products available on their website is impressive to say the least. They also offer fast shipping, and only charge sales tax to customers located in Illinois.
Common Features
As I mentioned above, Bounceland offers a wide array of inflatable bounce houses, slides, water slides, obstacle courses - you name it, they have it. With that said, you can find just about every feature you're after. Want a basketball hoop? There's a model for that. Want a water cannon? There's a model for that.
Popular Models
Castle w/ Hoop Inflatable Bouncer
B001EHJ7GG
Royal Palace
B008FCKLDG
Inflatable Dream Castle w/ Ball Pit
B008D5IL1O
Cloud 9
Brand Summary
Cloud 9 is the most elusive of the brand I've seen, in terms of their company identity. From what I can tell, they appear to be a company that buys wholesale (in various product categories) and sells on Amazon. I may not be correct about that, but there's not much of a trace of them online, and they certainly don't appear to specialize in the business of inflatables.
Along these lines, warranty information is difficult to come by for Cloud 9. Despite all this, they receive high ratings from users on Amazon who have purchased their products. Many users even note the quality and durable feel of the bouncers as they use them their first several times.
Common Features
Cloud 9 keeps it pretty basic when it comes to features. They do offer a couple variations of an inflatable obstacle course, but other than that we're basically looking at the same shape and size bouncers in a variety of themes and colors.
Popular Models
The Mini Crayon bounce house is Cloud 9's most popular inflatable bouncy house, by a wide margin. It is very highly rated (close to five stars), and has a large body of reviewers who have been more than satisfied with their purchase. It's price point is one of the biggest selling points, coming in at [] for a new unit.
The Mighty Bounce house is basically another variation of the Mini Crayon Bounce House or Princess Inflatable bounce house -- it's a basic bouncer, but it's built with quality and seems to be quite durable.
Other than a basic entry slide, this bouncy house is pretty bare bones in terms of features. That's OK though, the point of this bouncer is really just to add some variety to their product line and give kids and parents a choice on which visual theme they like best.
The Amazon reviews don't lie, and this bouncer has gotten consistently high ratings over a solid period of time. Combine that with Amazon's return policy and you can feel safe knowing that you can always send it back if you don't like it. And that's a beautiful thing. These days you can try out a brand like Cloud 9 without worrying that you'll be left with nothing.
Last but not least, we have the Princess Inflatable Bounce House. This is yet another spin on basically the same basic model, this time with a theme designed for girls. Also like the others, this one is very highly rated, and has been since first coming online.
Ultimately, this comes down to the fact that Cloud 9 makes some pretty solid bouncy houses, and they know that kids will always want choices if given the option. I can only see this helping their sales, and I think the sales numbers and review ratings are evidence of that.
If you have a little girl and you're looking for an inflatable bounce house, I'd highly suggest giving this model some strong consideration. It'll be something you and your girls can love for many, many years.