I'll never forget the first time our neighbors set up their inflatable water slide in their front yard. All of the kids from around the neighborhood rushed over and had a blast. It was one of the first times I realized that at-home inflatables (like inflatable water slides, bounce houses, etc.) were actually affordable and managable. And let me tell you — my wife and kids are glad we realized it when we did!
Inflatable water slides are loads of fun, and finding the best inflatable water slide is important. You want to find one that'll stand up and be durable over time so that you can enjoy it and really get every penny out of it. And finding the best one will maximize the joy your family and children get out of it.
The best inflatable water slides are...
Beyond the basics of durability and reliability, there are many factors personal to each family that will dictate the best inflatable water slide for them. Things like the age of your kids, the size of your family and how you intend to use the slide (personal use, gatherings with friends, parties, etc.) will be very important in determining which inflatable water slide is perfect for your family.
Because of that, I've done my best to pick some categories here that cover most of the situations that I can think of. Below I'll walk through all the slides listed above and outline what I like and don't like about each.
The things I generally look for when determining how to rank the units are durability, affordable price (relative to the quality) and features. Although to be fair, I tend to favor models with fewer bells and whistles. Perhaps it's because the number of features and the overall durability are inversely related, perhaps not. In either case, the preference sometimes shows through. :)
We've seen our fair shair of inflatable water slides. You can usually tell a lot based on their condition. And, of course, whenever I see one I have to ask the parents plenty of questions. Hopefully I don't bother anybody, but I do it out of genuine curiosity.
Anyway, here's my detailed breakdown of the best in flatable water slides
The Best Inflatable Water Slides are...
1
Blast Zone Hydro Rush Inflatable Water Park with Blower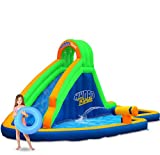 The Hydro Rush is a high quality offering from Blast Zone, one of the top brands in the business. I've said it before, but their warranty and top of the line quality are what set them apart as a brand. The Hydro Rush is a great first slide for your family, as it doesn't have a lot of bells and whistles, but it will give you a great introduction to what inflatable water slides are all about. And with the quality of the unit you'll be able to enjoy it for many years.
WHY IT'S #1 To be honest, this unit gets my top ranking almost by default. It's a basic, entry-level model from a brand that I am really a fan of (awesome quality, outstanding warranty - especially compared to the competition). On top of that, it gets a ton of positive reviews online. The vast majority of the reviews are overwhelmingly positive
The good There are many good things about this model. The durability and quality are mentioned pretty frequently, along with the light weight and ease of use. And I think the simplicity is actually a good thing, as too many options can sometimes be overwhelming or unnecessary.
The bad There aren't a lot of bad things to point out with this model. If anything, you can probably say it's less entertaining than a bigger unit with a bigger slide and other features, but at the end of the day the lack of those things doesn't make or break this unit..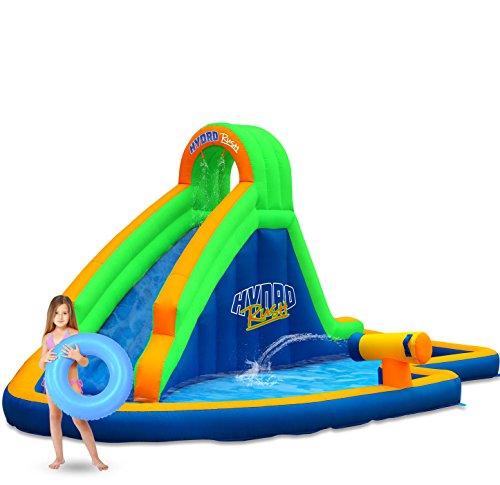 $299.99
more details
2
Little Tikes Slam 'n Curve Slide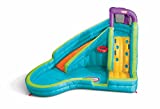 The Slam 'n Curve slide is my second favorite on my list of best inflatable water slides. It's a pretty basic model, like the Hydro Rush from Blast Zone, but that's not necessarily a bad thing. It'll give your kids a chance to get accustomed to inflatable slides without too many distractions, or things to go wrong. Little Tikes, while not quite as good as Blast Zone in my opinion, is still a solid brand, and is certainly one of the top brands in consumer-grade inflatables.
The Slam N Curve gets my second place vote, like the Blast Zone unit above, because it's a brand that people know an d trust. And overall, this is one of the most widely available and widely purchased units that I know of. It really is one of the best inflatable water slides.
The good First and foremost, the ease of finding this unit is great. It's sold on Amazon like most others, but you'll also see this unit at Target, Wal Mart and sometimes even places like Home Depot or Lowe's. On that note, it's also very affordable.
The bad Theonly real downside to this slide can be its size. Although it offers a decent amount of space for one kid at a time, it might be hard for other kids to remain pateint enough to be safe while they're using it. This is one of the units that we've used, and I've seen many impatient kids not waiting until things were clear before going down. Needless to say that's not something that we want to happen.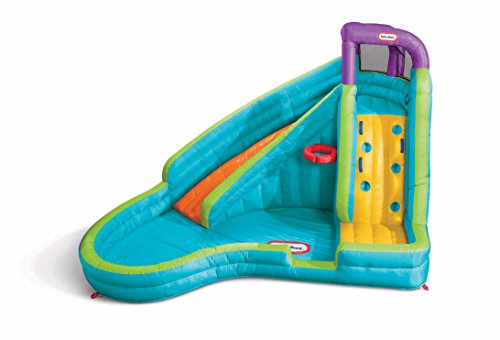 $411.99
more details
Little Tikes Slam 'n Curve Slide
Little Tikes
Challenging inflatable rock wall leads to a slippery slide with a gentle curve at the end for a fun ride into the refreshing, landing pool
Designed so parents can see all the action.
Fun basketball hoop in splash pool area
Stakes anchor the bouncer firmly in place, while a heavy-duty blower provides continuous airflow
Built of puncture-resistant material
Inside bounce area : 85.00L x 71.00W x 46.0H inches
Buy it on Amazon
3
Little Tikes Rocky Mountain River Race Inflatable Slide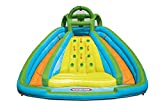 With its second entry in the top five, Little Tikes comes in with the Rocky Mountain River Race Inflatable Slide Bouncer. Overall this is a very popular unit. It's very similar to both the Slam n' Curve from Little Tikes as well as the Hydro Rush from Blast Zone. The obvious difference here is that it features two slides rather than one.
WHY IT'S #3 This is the Slam N Curve's bigger cousin. It's literally a double version of the same slide. With that said, this unit addresses one of the big problems I have with the Slam N Curve and that is the size / capacity. With this unit you can have two kids sliding at once, which might not seem like a big diference but it can dramatically change your experience.
The good There's plenty of good to go around here -- affordable price, large size, accessability (find it online or at a nearby store), and most of all your kids are guaranteed to love it. Like I mentioned above, the double sliding area is a nice touch that really increases the enjoyment of the unit.
The bad The real downside with this unit is the materials used. With an all-nylon construction, this slide won't stand up to use and abuse as well as those made of both nylon and PVC. And to top it off, the Little Tikes warranty isn't that great, coming in at 90 days (compared to a more typical one or even two yeard with other brands). In this case I still think it's a pretty solid unit.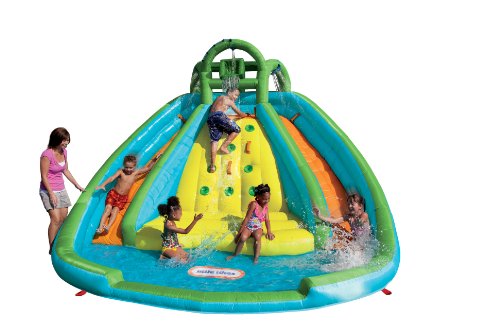 $489.24
more details
Little Tikes Rocky Mountain River Race Inflatable Slide
MGA Entertainment
Fun outside inflatable water bouncer includes climbing wall, two slides, and splash pool
Maximum number of kids is 4 and the maximum combined weight limit is 350 lbs.
Internal Box Size: 15.75''L x 28.75''W x 16.25''H (all dimensions are in inches )
A surprise dump bucket pours water on kids climbing up the center inflatable rock wall
Product Size 161.00L x 169.00 W x 103.00 H
Buy it on Amazon
4
Bounceland Inflatable Double Water Slide with Splash Pool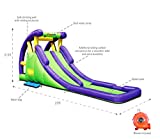 I know what you're thinking. "Double Water Slide? What the hell is that?" And I get it. The reason I included this one in my list, albeit pretty low down on the list, is because a) it offers a bit of a different twist on what most of the inflatable slides are doing and b) it gets a lot of good reviews, despite being offered by a relatively unknown brand.
WHY IT'S #4 You might think fourth is pretty high for a relatively unknown brand, but with a limited pool of competition and plenty of online reviews to back up their products, fourth is a perfect place for them to settle in.
The good The price and the number of positive online reviews are the main selling points for this bouncer. The brand is unknown but if you believe verified reviews on Amazon then that'll probably be all the assurance you need to buy this unit in peace.
The bad The lack of a brand is a big red flag here. That said, I personally believe in the verified reviews, and so I wouldn't hesitate to buy this unit. I also believe in Amazon's return policy, however, and have used it liberally in the past. Sure, it'll be pretty tough to swallow the shipping costs to return a larger item like this, but compared to the cost of the unit itself it's not so bad.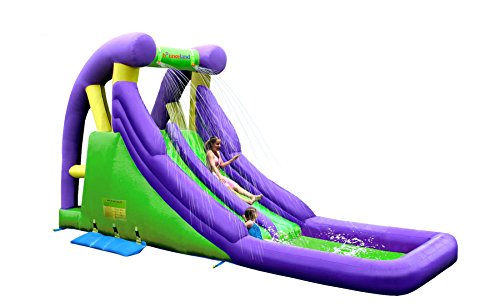 $399.00
more details
Bounceland Inflatable Double Water Slide with Splash Pool
Kidwise
[Specification] Inflated size: 20 ft L x W 7 ft W x 8.5 ft H, Package includes: water slide, blower, carry bag, stakes, repair kit and instruction....
[Quality Assurance] 1) Heavy-duty puncture proof material with double to quadruple stitches. 2) Strong secure 9" ground stakes 3) 6 ft Long air...
[Safety Standards] Bounceland products have been tested and approved for meeting and exceeding current world-wide requirements. We have been...
[Satisfaction Guaranteed] Product satisfaction is our goal. All Bounceland bounce houses come with a 90-day limited warranty covering manufacturing...
[Perfect Gift] Perfect gift idea for children to stay fit and active. Physical exercise and interaction with friends to replace screen time.
Buy it on Amazon
5
Cloud 9 Bounce House with Climbing Wall, Water Slide and Pool with Blower and Bag
Rounding out the list, I've included another obscure brand with the Sportspower My First Inflatable Water Slide. My first? Are you kidding me? This is a pretty advanced unit to be your first, but it's perfect to make my list of best inflatable water slides.
WHY IT'S #5 As a unit from Sportspower, I was pretty skeptical of this slide. But after reading the reviews I was convinced. Plus it's substantially bigger than the other models I've listed here.
The good It's a larger unit with a good sized slide. It also has a cannon which can add a lot to the enjoyment your kids will get out of this particular model..
The bad There's not much to say here that I didn't already say about the Double Water Slide above. An unknown brand is the real risk here, although with the assurance of reviews and a solid return policy you can reat easy knowing that you'll, in all odds, end up with a perfectly fine unit.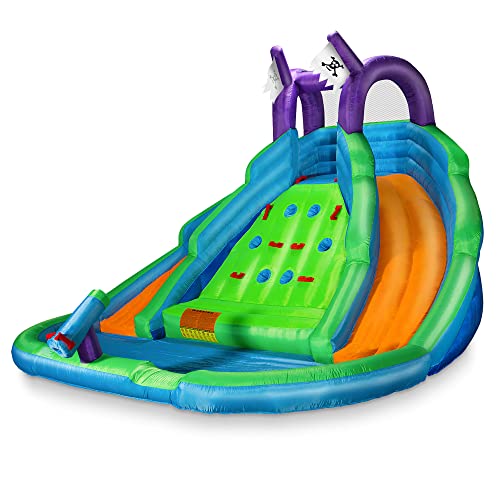 $379.99
more details
Cloud 9 Bounce House with Climbing Wall, Water Slide and Pool with Blower and Bag
Cloud 9
Premium-grade: Constructed of heavy-duty, puncture-proof 420D nylon with double and quadruple-stitching for durability and enhanced strength,...
Safe & lead free: The material is fire-resistant and lab-tested to ensure safety and compliance with the Lead-Free Toys Act.
Convenient size: When inflated, this bounce house measures 12' Wide x 12' Deep x 7'-7/8" High. Slides are 4' Tall and pool is 4' Wide. Capacity...
Sets up in minutes: Set-up is quick and easy, inflates in under two minutes and includes everything needed in the box
Includes 580 watt blower: Premium-quality 580 watt UL-Listed bounce house blower will keep your bouncer springy. Features a covered on/off switch...
Buy it on Amazon
What's the best inflatable water slide for older kids?
The best inflatable water slide for older kids is the Banzai Double Drop Raceway 2 Lane Inflatable Kids Outdoor Backyard Bounce Water Slide Splash Park. It has all the height that will make it fun enough for older kids to use it without getting bored. And with over a hundred fantastic reviews, this inflatable water slide is a sure thing.
When it comes to older kids, the biggest factor is the size of the actual slide. It has to be a little bigger for it to actually be fun for them. The majority of inflatable water slides are designed for kids 12 and under, and usually only stand about seven to eight feet tall. For a kid who is older than 10-12 or so, that just won't be very much fun.
With that, I've prepared the list below which features inflatable water slides that are 12' - 16' tall or more. Click on any image or link for more information.
Which is the Best Inflatable Water Slide for Adults?
Like older kids, adults need more room to spread out when they use an inflatable water slide. Because of that, the Pogo Bounce House Inflatable Water Slides for Kids - Backyard Inflatable Slides with Splash Pool - Tropical Slides with Water Pool Complete Setup with Blower, Stakes - 21' x 9' - 12' Tall Slide is the best inflatable water slide for adults. With enough height and a slide length that will actually be entertaining for a willing adult, and tons of positive reviews online, this unit will be tough to beat for a long time to come.
In Conclusion...
Finding the best inflatable water slide for your family can be a difficult task, but if you take your time and do the proper research, you'll find that it's well worth the effort that you put into it. If you do it right you'll end up with an awesome source of entertainment that your kids will be able to enjoy for years.
With that said, I enjoyed putting this guide together and I hope that it helps lead you to that perfect inflatable water slide for you and your family. Reach out in the comments if you have any questions, and check out some of my other articles for more info on inflatables and bounce houses.