The question of the best bounce house to buy is pretty simple when you break the problem down and answer a few key questions. First, how old are your kids? Second, how many kids will typically be using the bounce house? Third, what extra features do you want? Finally, what is your budget?
By answering those questions you can focus in on a bounce house that'll be a perfect fit for your family.
But first, a quick note: There are a lot of bounce houses on the market, with many online offerings coming out in the last year or two. In my opinion, you can't go wrong with Blast Zone or Bounceland, and for smaller kids Little Tikes may have a lot to offer.
The Age of Your Kids Will Dictate a Lot
The age and number of kids will be the most important factor when you're finding the best bounce house to buy. For younger kids, personally I'd say 6 and under, you'll be able to go with something from Little Tikes or a smaller model from Blast Zone. If your kids are a little older then you'll likely end up going with a larger model from Blast Zone or Bounceland.
Additional Resources: See my guide to the best inflatable water slides
Additional Resources: Look at our Top 5 Little Tikes bounce houses
Additional Resources: Check out our Trampoline Buyer's Guide
You should also try to think ahead and consider how your bounce house will be used. What I mean by that is, will you just be using this yourselves, or will you be using it a lot with friends or at parties? This will definitely have an impact on the size of bounce house you need in order to get your money's worth out of it.
Do You Plan to Use it at Parties?
If so, you better be prepared and get a larger bounce house than you need just to cover your own family. I can tell you from experience that it's no fun to throw a party with a bounce house that's too small. You'll end up having to manage the chaos rather than actually being present in the moment at your party, and it'll cause plenty of frustration.
By getting a larger unit, you're ensuring that it'll be future compatible for your family as it grows and for events that might come up that require a little more capacity.
At the end of the day you have to know yourself - if you're never going to set it up in a party situation or if you don't have other kids over very often then you might be able to get away with a smaller unit. Even then, you may regret going smaller because larger is most definitely always better when it comes to finding the best bounce house to buy.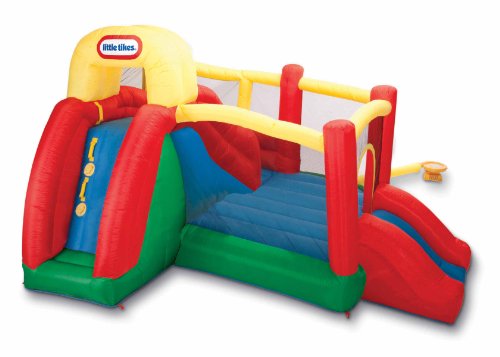 Do You Know Which Features You Want?
There are plenty of very awesome, very basic bounce houses out there. In fact, I tend to think that the simpler models are often better and end up lasting longer because there are fewer small details that may end up going wrong. At the same time, there are bounce houses with advanced features like slides and basketball hoops that may draw your interest, and there are plenty of good options out there to fulfill those needs.
One common feature is a basketball hoop. If that's what you're looking for, then the best bounce house to buy for you might be something like the Little Tikes Dunk N Toss Bouncer or the Bounceland Bounce House Castle with Basketball Hoop Inflatable Bouncer, Fun Slide, Safe Entrance Opening, UL Certified Strong Blower Included, 12 ft x 9 ft x 7 ft H.
One feature that you can add yourself is a ball pit. Just buy a bag of ball pit balls from Amazon and you're good to do. If you don't want to actually buy the balls and do it all yourself (although it is very, very simple) you can get a model that has an integrated ball pit.
What is Your Budget?
I'm mentioning this last only because it's one of the more variable factors involved in the process of finding the best bounce house to buy. In other words, your budget might be able to grow a little bit if you find a unit that really fits you and your family well.
In any case, budget is definitely a factor involved in finding a bounce house. If you have a larger budget then you can get a higher quality option like something from Blast Zone or Bounceland. If your budget is on the lower end then you'll have to get something from Little Tikes, Cloud 9 or one of the other lesser known brands.
No matter what your price point is, though, you can find a high-quality option. Here are some