When buying a bounce house for your toddler, there are several factors that you need to consider to ensure that your child stays safe and has fun. This guide will help you understand everything you need to know to find the perfect bounce house for your family.
Before we get into the criteria we've used to rank the various models, these are the top five bounce houses for toddlers:
Now, let's get back into the detail. Before we dive into the individual models, these are the most common things that you'll want to keep in mind as you decide on a bounce house for your toddler.
Things to Consider
When you're trying to find the best bounce house for your toddler, there are many factors to consider. I have ranked these factors to a certain degree here, but you know your family and your needs better than I do so they may have different priorities for you. Either way, these will be important things to consider in your research process.
Size and Weight Capacity. The first thing to consider is the size and weight capacity of the bounce house to ensure that it's appropriate for your toddler's age and size. Bounce houses designed for toddlers are typically smaller and have lower weight limits than those designed for older children, so understanding if you want one that will support your toddler as they grow will be important.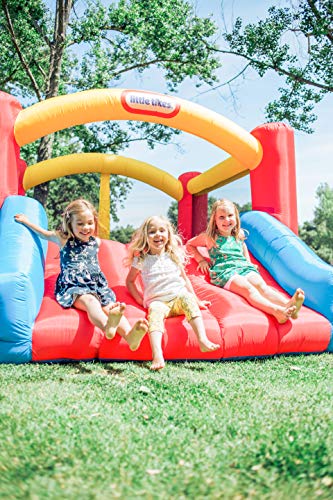 Safety Features. It's hard not to list this first. Safety is always a top concern for parents, so you definitely need look for bounce houses that have safety features such as mesh netting to prevent falls, secure entry and exit points, and sturdy materials that won't puncture easily. Fortunately for parents, just about every bounce house these days meets those criteria.
Durability. The third thing you'll want to consider is the durability of the bounce house to ensure that it can withstand regular use and rough play from toddlers. If you assume that you'll use it a lot and buy with durability in mind then you're a lot more likely to end up happy with the results.
Ease of Set-Up and Storage. You'll also want to get a bounce house that is easy to set up and take down, and that can be stored easily when not in use. Another thing that I like to keep in mind along these lines is the ability to use the unit indoors. That can come in very handy on some of those long days.
Fun Features. Finally, you'll want to look for a model with fun features such as colorful graphics, built-in slides, or interactive elements like ball pits or obstacle courses. More advanced models will cost more, and simpler can sometimes be better, but this is another area where knowing your own child and your intended usage will help.
Additional Resources: Learn How to Anchor a Bounce House Indoors
Additional Resources: Find the Best Bounce House for Your Basement
Additional Resources: Find the Best Trampoline for Kids
With those criteria in mind, here is a more detailed look at our list of the best bounce houses for toddlers.
The Top 5 Best Bounce Houses for Toddlers...
1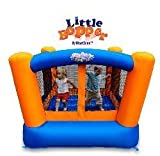 The Little Bopper Inflatable Bouncer is a high quality offering from Blast Zone, one of the top brands in the business. The brand really does speak volumes here, as Blast Zone offers an awesome warranty and top of the line quality that stands out above the competition. The Little Bopper is a great bouncer that is big enough for your kids to have fun but compact enough to be safe and portable. This unit is also really easy to anchor to the ground (wherever you are), and that is always an important factor.
Customer Reviews: See what other customers have said about the Little Bopper
WHY IT'S #1 This unit gets my top ranking because it's solid and built really well, yet it's small and light enough where you can easily take it out and blow it up within a few minutes. Also, I'm a big fan of Blast Zone as a company. Their warranty blows others out of the water, although with commercial materials and extra stitching in the important areas, you won't be needing it.
The good There are many good things about this model. We own this unit, and it's lasted much longer than the Little Tikes unit we originally bought. The blower is just as quiet but it's provided so much more value. I'm someone who likes a good value, and I honestly feel like I could sell this unit in a year and get most of my money back.
UPDATE: It's over a year later, and I did sell this unit. I ended up getting half of my money back - not too bad! The people came to my house, checked it out, and loaded it up. Thanks, craigslist!
The bad There aren't a lot of bad things to point out with this model. If anything, you can probably say it's less entertaining than a bigger unit with a bigger slide and other features, but at the end of the day those aren't features you'll need for a toddler.
2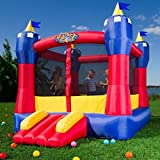 The Blast Zone Magic Castle is another rock-solid offering from Blast Zone. As I mentioned above, the brand really stands out above the others in this category, and so that alone earns this bouncer a high spot on the list.
Customer Reviews: See what other customers have said about the Magic Castle
WHY IT'S #2 The Magic Castle gets my second place ranking mainly because of its size. This is a highly regarded bouncer by just about everyone who buys it, but when it comes to finding a bounce house for your toddler you might find that you don't need this much jumping area.
The good First and foremost, the quality of this bouncy house is outstanding compared to a lot of others in the market. It also comes with a fantastic warranty for both the blower and the inflatable itself. And depending on your viewpoint, the size of the jumping area can also be a big benefit. If you have multiple kids jumping at once, you may want a larger unit such as this.
The bad Theonly real downside to this bouncer can, ironically, be its size. Although it offers a larger jumping area and support for more kids, it's not nearly as versatile as the Little Bopper or Jump 'n Slide Bouncer. If a large size is a negative selling point for you, avoid this unit.
3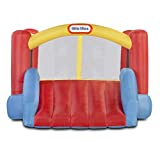 With its first entry in the top five, Little Tikes comes in with the Jump 'n Slide Bouncer. Overall this is a very popular unit. It features the widest distribution out of any of the inflatable bounce houses you'll find (it's sold at Target and Walmart, in addition to Amazon), and there's a reason for that. For a first time buyer, this is a great unit to test the waters. Just make sure to buy it before your kids are too old.
Customer Reviews: See what other customers have said about the Jump 'n Slide Bouncer
WHY IT'S #3 Personally, I'm a big fan of Blast Zone. I think they make great products, and really have been sold on their semi-commercial construction (using PVC for jumping surfaces rather than nylon for the whole thing). With that said, the Jump 'n Slide bouncer is still a fantastic bounce house for your kids. It just might not last as long as a Blast Zone unit.
The good There's plenty of good to go around here -- affordable price, versatility (set it up inside or outside), accessability (find it online or at a nearby store), and most of all your kids are guaranteed to love it.
The bad The real downside with this unit is the materials used. With an all-nylon construction, this bouncer won't stand up to use and abuse as well as those made of both nylon and PVC. And to top it off, the Little Tikes warranty isn't that great, coming in at 90 days (compared to a more typical one or even two yeard with other brands).
4
Cloud 9 comes up fourth on the list for the first time. This is primarily due to their relative lack of polish as a brand. You won't find a robut online or in-store presence for Cloud 9 like you might with some of the other brands. As a consumer, this can be nerve-wracking. Nobody wants to risk getting ripped off by an unknown brand or fly-by-night company. However, it's safe to say that is not the case with Cloud 9. They have tons of positive reviews online to back up their products and services, and so with that, the Mini Crayon Bounce House earns the fourth spot on the list.
Customer Reviews: See what other customers have said about the Mini Crayon Bounce House
WHY IT'S #4 You might think fourth is pretty high for a relatively unknown brand, but with a limited pool of competition and plenty of online reviews to back up their products, fourth is a perfect place for them to settle in.
The good The price and the number of positive online reviews are the main selling points for this bouncer. Like I said, Cloud 9 keeps a low profile, so you won't find much more detail than that on the internet.
The bad The relative obscurity of the brand is the big downside here. However, their prices are low enough to offset that fear, at least in my mind. And I know I've mentioned the online reviews, but it would be hard to fake the number of positive reviews they have. I think you can safely say they're a decent brand that makes a good product. And while I don't own one of these myself I wouldn't hesitate to buy one.
5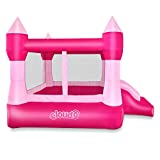 Rounding out the list, I've included a model from Cloud 9 that brings some variety into the mix. I don't have a daughter myself, but I know a lot of people who do, and for a lot of them, life is pink! And so with that, I had to include a bouncer just for the parents with young daughters who want to bounce in a princess castle.
Customer Reviews: See what other customers have said about the Princess Inflatable Bounce House
WHY IT'S #5 As another Cloud 9 unit, this one automatically gravitates toward the bottom of my list. However, if you're looking for a pink bounce house, there are almost no other options out there that you'll find. And with it's toddler friendly size and low price, this is a model I would still recommend.
The good It's a larger unit with a good sized bouncing area, but let's be honest -- the main reason you'll buy this bouncer is the color. It's pink, very pink. I do like the two-tone look. It helps to break it up and not make the pink too intense.
The bad There's not much to say here that I didn't already say about the Cloud 9 Crayon bounce house -- you're taking somewhat of a chance with Cloud 9, but I think the risk is low.
In Conclusion...
Choosing a bounce house for your toddler can be a big challenge. There are plenty of options out there, and it's important to do full research and all your due diligence before you move forward with a purchase.
Additional Resources: Check out our guide to the best bounce house brands
Additional Resources: See the bounce house buying guide for more reviews
With that said, I hope this guide has helped you make that decision. It's just my opinion, but I'm a dad who cares about his kids more than anything and wants to see them enjoy life to the fullest!